People generally do not give much importance to dental health care. Majority of the people are afraid of going to the dentist, but this carelessness could result in severe dental problems in future. A large majority of dentist in Model Town, Delhi believe that overall health of a person largely depends on his/her dental health. The ability of our teeth to chew and our mouth to swallow our food is important for acquiring nutrients. If we do not take good care of our teeth, this in turn will affect our overall health. By following some simple ways it is easy to maintain strong teeth.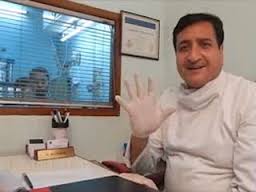 Proper brushing of teeth is one of the easiest ways one can follow. Brushing and flossing your teeth regularly in a proper manner can save you from cavities and gum diseases. Use of various mouth care products can also supplement the dental health.
Diet also plays an important role in oral health. Unhealthy foods, higher intake of sugar substances, alcohol, smoking etc. all are the key reasons of cavities.
Regular visits to a dentist can help you find solutions for you dental problems at an early stage. Dental clinic in model town provides the appropriate and best solution for dental problems. It is always advisable to cure the problems at starting phase rather than experiencing a painful treatment.
Visit Dr. Atul Kakar's Clinic to have perfect dental health within your budget.