Shalimar Bagh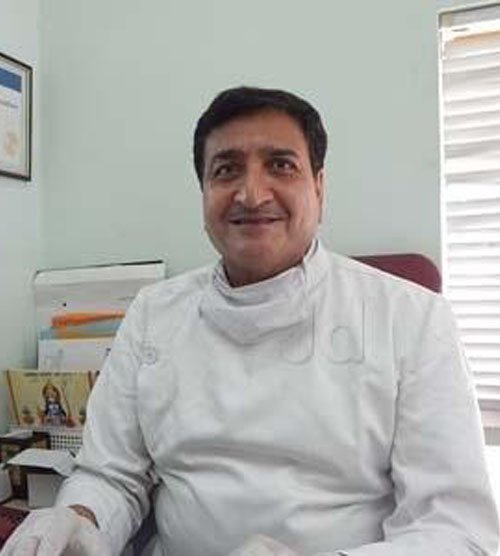 Dr. Atul Kakkar
(B.D.S.) and Post graduation (M.D.S. Prosthodontics)
Expert in Crown & Bridge, Complete Dentures and Dental implants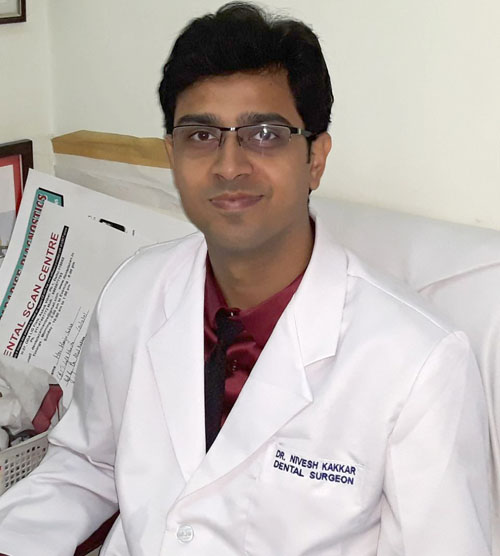 Dr. Nivesh Kakkar
BDS, MDS
Expert in Periodontics and Implantology
Everyone Deserves Good Quality!
Caring for all your family's dental needs.
Dental health is important for overall health. Almost everyone will need to see a dentist at some point in their lives. It can be a difficult decision to choose the right dentist in Shalimar Bagh.
Healthy teeth and a harmonious smile can improve self-esteem, influencing aspects of patients social, professional and personal lives. Therefore, modern dentistry is not limited only to aesthetics. Oral health is fundamental to the health of the human body as a whole. We seek to offer you, in addition to a new pleasant smile, health to the whole body.
Kakkar Dental Clinic in Shalimar Bagh is committed to providing high quality, preventative services at an affordable price to those who need it most. Services include dental and X-ray procedures,  restoration, prophylaxis, extraction, root canal treatment, diagnosis of mouth injuries. It also includes preventive consultations, such as dental cleaning, fluoride applications and sealants.
Best dental clinic in Shalimar Bagh
Our clinic has carefully personalized, warm and welcoming environments, offering the patient a pleasant experience during all phases of their dental treatment.
We are specialists in a range of treatments. Some highlights are:
tooth whitening;
dental implants;
cosmetic dentistry;
dental appliance;
restorative dentistry;
among many others!
All services are guided by our philosophy of providing personalized and individualized care, according to the needs of each patient. Since professional improvement is part of our values, the professionals on our team – who are one of the best dentists in – are constantly updating and specializing in the most up-to-date techniques in dentistry. Come and visit our best dental clinic  in Shalimar Bagh and talk to professionals whose main objective is to clarify doubts and help you choose the best treatment!
How to Choose a Dentist
There are a few things to consider when choosing the best dentist in Shalimar Bagh. The first is whether you have any dental insurance. If you do, make sure to ask the dentist if they are in network. You may also want to ask if the dentist accepts any form of payment, such as cash, check, or insurance.
Another important factor to consider is the dentist's experience. At Kakkar Dental Clinic, Our doctors have extensive training and experience in dental procedures.
What to Look for in a Dentist
When it comes to choosing a dentist, there are a few things to keep in mind. First and foremost, you'll want to make sure the dentist you choose is licensed and insured. Additionally, you'll want to look for a dentist who has experience with your specific dental needs. Dr Atul Kakkar has more than 30 years of experience.
How to Find a Dentist Near Me
Finding a dentist near you can be a daunting task, but with a little research and effort, it can be a breeze. Here are a few tips to help you get started:
1. Ask around. If you're looking for a dentist near you, it's always a good idea to ask around. Your friends, family, and co-workers may know of a great dentist who is willing to take on new patients.
2. Check out online directories. If you're not
What to Expect at the Dentist
When you visit the dentist, you may be feeling a bit anxious. However, don't be! Dentists are highly qualified professionals who will help you maintain your oral health. Here are some tips to help make your visit as smooth as possible:
1. Make an appointment.
The best way to ensure that you get the treatment you need is to make an appointment. This will give the dentist time to assess your needs and schedule a fitting appointment.
2. Bring a list of questions.
When you arrive, be prepared to ask any questions that you have about your dental care. The dentist will be happy to answer them.
How to Choose the Right Dentist for You
Choosing the right dentist in Shalimar Bagh can be daunting, but with a little research and some tips, you can find the perfect one for you. First, consider your needs. Do you want a dentist who specializes in a certain area, or do you want someone who is experienced in general dentistry? Second, consider your budget. You don't have to spend a fortune to find a great dentist, but don't go cheap either. Finally, take the time to meet with several dentists and choose the one who makes you feel the most comfortable.
Conclusion:
When choosing the best dentist in Shalimar Bagh, you should consider the dentist's training, experience, and location. You should also consider your own needs and preferences.