Teeth whitening in Ashok Vihar is a non-invasive treatment that improves the appearance of teeth, making them whiter and whiter.
Good teeth whitening must always be done by dentist in Ashok Vihar. The procedures used are more controlled, as well as the agents used, which are usually more powerful than the typical whitening kits sold in pharmacies.
By putting yourself in the hands of a dental health professional, you will be guaranteeing the effectiveness of the results with a teeth whitening treatment in Ashok Vihar that will also have no contraindications for the patient.
What is a teeth whitening?
Teeth whitening is a technique with which we will be able to whiten the teeth, obtain a whiter smile with very long-lasting results.
Why do teeth darken?
It is common for teeth to darken over time and take on a more yellowish color. However, there are certain foods and drinks that accelerate this darkening of the tooth due to their high coloring power.
This would be the case with tea, coffee, wine or foods such as curry and soy sauce. 
Soft drinks and sugary drinks, candies, vinegar, etc. also affect the tone of the teeth.
And of course, the biggest cause of yellow teeth is tobacco.
Who is teeth whitening recommended for?
Teeth whitening can be done for anyone who has darkening or yellowing of their teeth. 
The important thing is that you go to specialized dental clinics such as our dental clinic in Ashok Vihar so that a professional can review the case and find the best solution for said treatment. 
From what age can I do the treatment?
Before carrying out teeth whitening in Ashok Vihar, the mouth must be checked to see that there are no other pathologies. 
In terms of ages, it is usually considered that whitening can be carried out after adolescence.
However, there can always be specific cases that require teeth whitening before that age, but this must be prescribed by a specialist, so we always recommend that you call the dentist in Shalimar Bagh to discuss the case and have him assess whether or not it is appropriate to do so.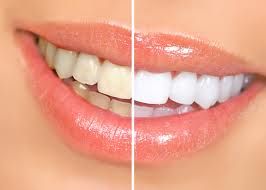 How is teeth whitening done?
Before starting to whiten the patient's teeth, it is necessary to thoroughly clean the mouth and explain to the patient how teeth whitening works.
Then, it will be necessary to establish the color that the teeth had at the beginning and the cause of their current appearance. In this way you can determine the type of whitening that is going to be carried out and the results that are expected to be achieved. 
The most important thing is that the treatment is carried out by professionals who are experts in this technique, in a center that offers all the guarantees and confidence that the patient needs.
There are different types of teeth whitening and depending on which one is chosen, the procedure will be one or the other.
Are all teeth whitened? Which is better?
When you already know how teeth whitening works, you can get an idea that when you do it, all the pieces are whitened, although it is always important to study each case. 
As a general rule, teeth whitening is performed on all teeth. However, if there were any piece much more yellowish than the rest, the teeth whitening in Ashok Vihar could be focused on it a little more to match its color with that of the rest. In this way we achieve that the tone of all the teeth is uniform.
Care after teeth whitening
It is important to be careful 72 hours after the light treatment phase as the tooth is more permeable. That is why it is recommended to follow a " white diet " that is, eat and drink products that are not excessively pigmented or have strong colors. This is the case of tea, wine, chocolate, red fruits, coffee, soy, etc.
Once those 72 hours have passed, there is no longer any need for special care after teeth whitening and you can lead a normal life. 
The results are stable in the long term but not inalterable. Over time, the tooth ages and darkens. The degree and speed of tooth aging will depend on the patient's habits.
Is teeth whitening permanent?
Definitive teeth whitening does not exist since it will depend on each person and how they take care of their teeth. 
The reality is that tooth whitening, broadly speaking and without going into detail techniques, is a non-invasive treatment that manages to lighten the color of the teeth by applying a whitening product. With this we manage to rejuvenate our smile and dramatically improve its aesthetics.
From that moment we have to be aware that no matter how exquisite we want to be with our hygiene habits and careful with the food we eat, it is inevitable that by the mere fact of living, as the years go by our teeth may acquire tone of natural form.
So at Kakkar Dental Clinic we are always very honest with our patients. We would all like definitive teeth whitening and that is why we work with the best products and equipment, being able to lighten an average of 8 shades with stable results for years. 
But then, is there no way to do permanent teeth whitening?
With the technique of teeth whitening alone, no. What is usually done to make it completely definitive is to place ceramic veneers.
These thin ceramic sheets are made in the desired color and are placed on the tooth, and since they are not porous, their color does not vary.
The main difference is that it is a more invasive treatment than regular whitening, since in most cases to substantially correct the color of the teeth it will be necessary to carve, even minimally, the original teeth.
But the usual thing is that you choose to place ceramic veneers only when, in addition to the color, you also want to correct alterations in the shape or size of the teeth.
How much last a dental whitening?
After what is tooth whitening and how is tooth whitening done, this is the most frequently asked question and the duration of said treatment will depend on each case and each person. 
As we have said in the previous section, with the appropriate equipment such as our Philips Zoom Lamp, the results can last for years, but we cannot say that tooth whitening is unalterable over time. 
The Philips Zoom Lamp whitening system is the safest, most effective and fastest. In just one session, the patient will notice how the color of their teeth is lightened.
However, after performing teeth whitening, even if the years go by, they will always be better at the tone level than if you had never had a treatment of this type. 
How often can teeth whitening be done?
There is no exact timing. The time between a professional teeth whitening and another will depend on each person. 
For this reason, it is best that you always be supervised by a dentist in Model Town and that it be the professional who advises you to perform a second tooth whitening. 
To do this, we recommend that you carry out annual reviews. In this way, the dentist will be able to see the evolution of the treatment and will be able to advise you on the best options to continue keeping your teeth white. 
Advantages of teeth whitening in Ashok Vihar
Whiter smile and aesthetic improvement : a well-cared smile will improve the features of any person and a white smile will be one of the best letters of introduction, that is why keeping white and healthy teeth is one of the great advantages that whitening offers dental.
Increased self-esteem : seeing yourself with a whiter and more uniform smile improves self-esteem and we feel better. 
Immediate results : A teeth whitening offers immediate results. You won't have to wait months to see improvements. From the first session you will be able to observe how your teeth are whiter.
Painless : tooth whitening is a painless treatment that does not require anesthesia and therefore does not cause discomfort to the patient.
Respectful with the teeth : far from what many people think, teeth whitening does not harm the teeth and, of course, does not cause dental sensitivity.
 Compatible with other treatments : performing teeth whitening is not incompatible with other kinds of dental aesthetic treatments. So once you're done with your scheduled sessions, you can continue to take care of your teeth.
Contraindications of teeth whitening
We can ensure that teeth whitening is a safe treatment, and that it does not have any negative consequences. So after performing it you will not have any physical or aesthetic sequels. 
Does it have side effects?
You don't always ask if tooth whitening hurts. And no, it is a treatment with which the patient will not suffer pain or discomfort. 
Teeth Whitening in Ashok Vihar does not damage the enamel of the teeth nor do its results dissipate in a matter of months, so rest assured because although it is not a definitive treatment, it is long-lasting.
And finally, we can guarantee that teeth whitening does not increase the sensitivity of the teeth. What can happen is that during the treatment the patient experiences some sensitivity. But it is something momentary that disappears at the end of it.