What is a crown?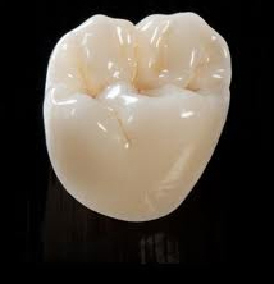 A crown, often called as a cap, is an artificial hollow cover resembling a natural tooth crown that restores a decayed or damaged tooth to its normal shape and size. It is fabricated out of metal or ceramic material by special procedure in a dental lab.
WHERE CAN CROWNS BE PLACED?
All the teeth that have had root canal treatments done should be covered with crowns to prevent their breakage as they have lost their natural hydrating mechanism and tend to be brittle.
Teeth that have been restored more than half by filling material should be crowned.
Tooth with bad aesthetics can be reshaped with crown to improve the aesthetics.
Damage to the tooth structure because of wear and tear can be restored with crown.
Fractured tooth can be restored with crown.
Teeth with wide spaces between them resulting in food lodgment or unpleasant appearance can be crowned.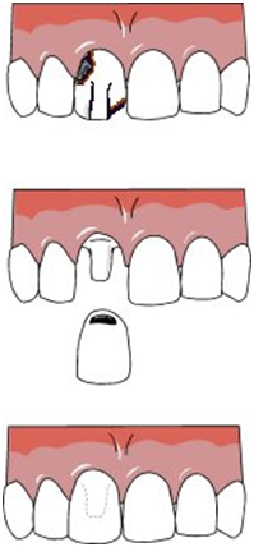 Bridges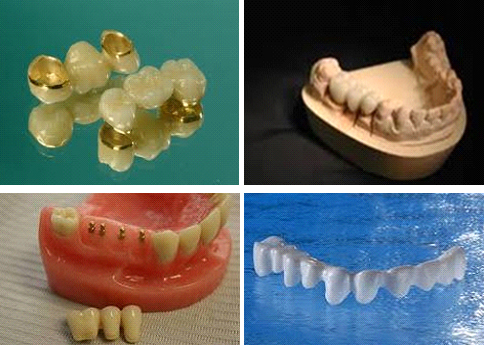 A fixed bridge can replace one or more missing teeth. It consists of one or more artificial solid teeth suspended to crowns that are placed on two or more supporting teeth. Fixed bridge helps to restore normal function and proper position of your bite. A fixed bridge is made of various metals, porcelain, or a combination of the two.
WHAT ARE THE LIMITATIONS OF A BRIDGE?
If one or more teeth are missing it can be replaced with fixed bridge.
If the jaw has generalized space in between the teeth, the fixed bridge can fill the gaps.
Can be placed over implants to make implant supported partial or full mouth bridge.
WHAT ARE THE LIMITATIONS OF A BRIDGE?
If the teeth which are going to support the bridge are not stable, bridge should be avoided.
If number of missing teeth is more than number of present teeth, the fixed bridge can't be given.
WHAT ARE THE ADVANTAGES OF A BRIDGE?
This is a fixed partial denture and patient does not need to remove it once fixed.
If maintained properly, stays for a longer period.
Less expensive as compared to dental implants.
Do not require any surgery.
VARIOUS TYPES OF CROWNS/BRIDGES
There are various types of crowns/bridges which include:
All metal
Porcelain fused to metal (tooth coloured)
All porcelain (metal free )
Zirconium based (metal free)
Precious metal
ALL-METAL CROWN/BRIDGES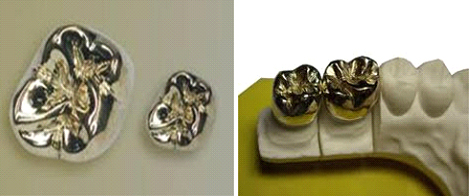 PORCELAIN FUSED TO METAL:

ALL-PORCELAIN CROWNS/BRIDGES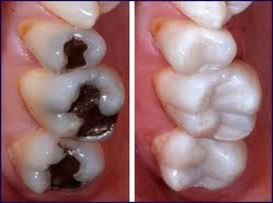 ZIRCONIUM BASED CROWNS/BRIDGES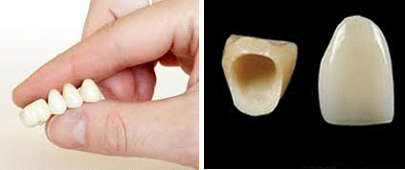 PRECIOUS METAL CROWNS/BRIDGES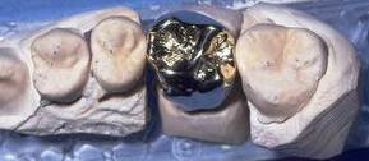 They are made from precious metals like gold and palladium.